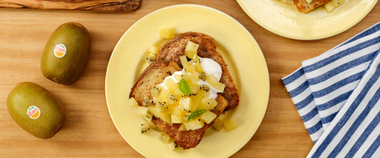 INGREDIENTS
8 thick slices of whole wheat or spelt bread (320 g)
250 ml almond milk
2 eggs
6 g cinnamon powder (1 teaspoon)
40 ml agave syrup
20 ml coconut oil
125 g light Greek yogurt
4 Zespri™ SunGold™ kiwifruit
A few leaves of fresh mint
METHOD
Peel the kiwis, dice them into approximately 1 cm cubes and set aside.
In a bowl, whisk together the milk, eggs, cinnamon and 20 ml of the agave syrup. Dip the bread slices into the mixture, turning over, until they are well soaked.
In a non-stick frying pan heat a little coconut oil and cook the slices over low heat until golden brown on both sides.
Serve the toast with a spoonful of Greek yogurt on top, the kiwi, the remaining agave syrup and the fresh mint leaves to garnish.