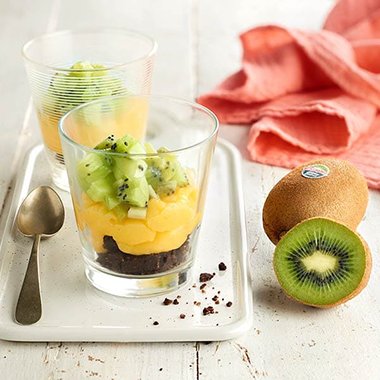 INGREDIENTS
 For the custard:
100 ml lime juice
2 tablespoons agave nectar
1 tablespoon butter
1 egg yolk
1 egg
10 g cornflour
For the cookie crumble:
100 g ground almonds
30 g defatted cocoa powder (optional)
40 g brown sugar
12 g cornflour
pinch of salt
5 g desiccated coconut(optional)
10 g olive oil
20 g butter
1 egg
METHOD
For the cookie crumble: in a bowl, combine all the ingredients and mix into a smooth dough. Put the dough between two sheets of baking paper and roll out with a rolling pin. Put on a baking tray.
Bake in a preheated oven at 190°C for 8 to 9 minutes. Leave to cool and crumble up.
For the custard: heat the lime juice, butter and syrup. In a bowl, beat the eggs, yolks, rest of the agave nectar and cornflour. Add the previous mix, whisk well and put back into the pot. Cook the custard on low heat without stirring until it thickens. Remove from the heat, leave to cool and fill the tart.
Peel and finely dice the Zespri kiwifruit. In a glass, alternate layers of cookie crumble, lemon custard and diced kiwifruit.