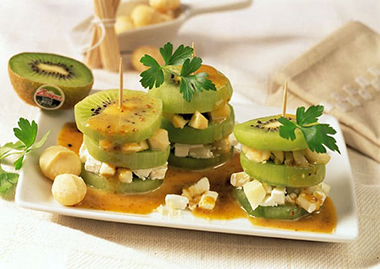 INGREDIENTS
4 Zespri Green kiwifruit
100 g Goats cheese
60 g Macadamia nuts
For the dressing: 
1 Tbsp medium hot mustard
1 Tbsp Sour cream
2 Tbsp Cassis
2 Tbsp White Balsamic vinegar
2 Tbsp Honey
Salt
Large peppercorns 
METHOD
Top and tail and then peel the Zespri Green kiwifruit and cut into approx. five to six slices. 
Finely dice the goat's cheese and roughly chop the macadamia nuts. 
For the dressing, mix the mustard, sour cream, cassis, vinegar and honey to a smooth consistency and add salt and pepper to taste. 
Lay the diced cheese on one of the Zespri Green kiwifruit slices, place a second kiwifruit slice on top, spread the nuts upon this slice and then finish with a third kiwifruit slice. 
Secure the Zespri Green kiwifruit Turrets together with wooden skewers set on a plate and dribble the dressing over them. 
Garnish with macadamia nuts and parsley and serve with the rest of the dressing.