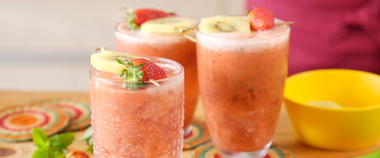 INGREDIENTS
500 ml sparkling water
16 strawberries (400 g)
2 Zespri™ SunGold™ kiwifruits
3 limes (180 g)
80 g brown sugar
15 g fresh mint
300 g ice cubes
METHOD
Wash the strawberries and reserve 4 for decoration. Remove the stalks from those not reserved. Peel a kiwifruit, cut 4 slices and set aside. Cut the rest of the kiwifruits into pieces.
Crush the ice with a blender or food processor. Remove and set aside in the freezer.
Crush the strawberries without the stalks, the kiwifruit pieces, the squeezed limes, the sugar and the mint, reserving a few leaves for decoration.
Divide the ice among the glasses and add the mixture and water.
Serve in glasses and garnish with the reserved strawberries, kiwifruit slices and mint.