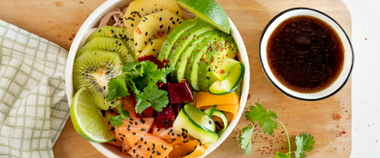 INGREDIENTS
For the bowl:
200 g rice noodles
400 g salmon loin
1 medium courgette (200 g)
4 carrots (200 g)
1 boiled beetroot (150 g)
1 avocado (200 g)
2 Zespri™ Green kiwifruits
2 Zespri™ SunGold™ kiwifruits
2 garlic cloves
20 ml olive oil
Pinch of ground chilli bell pepper (3 g)
A few sprigs of coriander (20 g)
Black sesame (5 g)
1 lime (60 g)
Salt (approx. 3 g)
Pepper (approx. 3 g)
For the Ponzu sauce:
25 g lime juice
50 g rice vinegar
30 g soy sauce
10 gr mirin or rice wine
5 gr dried kombu seaweed
4 gr katsuobushi (dried tuna flakes)
25 gr lemon juice
25 gr white wine vinegar
You can also use a store bought Ponzu sauce if preferred.
METHOD
For the Ponzu sauce: mix together all the ingredients in a bowl, cover with cling film and leave to stand in the fridge for 24 hours. Strain through a fine sieve and set aside.
Trim and peel the carrots. Wash the courgette and with the help of a mandolin if you have one (or a peeler) cut it into thin strips lengthwise and do the same with the carrots. Blanch for about 2 minutes in boiling water, drain and refresh with cold water.
In a frying pan heat the olive oil, add the chopped garlic, leave for a few seconds and, before they brown, add the courgette and carrots. Sauté for a couple of minutes over low heat and season with salt and pepper. Set aside.
Boil the rice noodles in plenty of salted water for the time recommended on the packet. Drain and set aside.
Cut the salmon into cubes of about 3 cm. Peel and cut the avocado into wedges. Cut the beetroot into cubes. Peel the kiwifruits and cut them into slices.
Place the courgette, carrot noodles and rice noodles in a bowl. Top with salmon, avocado, kiwifruits and beetroot. Pour the Ponzu sauce on top and finish by sprinkling the chilli, sesame and some coriander leaves. Serve with lime wedges.