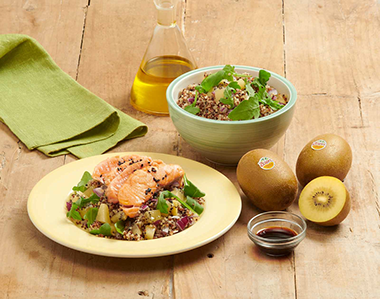 INGREDIENTS
150 g quinoa
2 Zespri™ SunGold kiwifruit
50 g rocket leaves
Zest and juice of 1 lemon
40 ml olive oil
1/2 red onion
Salt
Pepper
For the salmon:
1 teaspoon black sesame seeds
500 g fresh salmon fillet, in one piece
1 Tablespoon of soy sauce
½ lemon
METHOD
Cut the salmon in 4 pieces and sear on a pan around 30 seconds for each side. Cut into slices and set aside.
Boil the quinoa in water with half a teaspoon of salt for 15-20 minutes, until soft. Drain and rinse with cold water.
Peel and dice the Zespri™ SunGold kiwifruit. Chop the red onion, wash the rocket leaves and pat dry.
For the dressing: Mix the lemon zest and juice together with the oil, salt and pepper.
Gently mix the cooked quinoa, rocket, kiwifruit, red onion and the dressing. Serve in bowls. Place the salmon slices on top, add the soy sauce and lemon juice drops and finish with the sesame seeds.