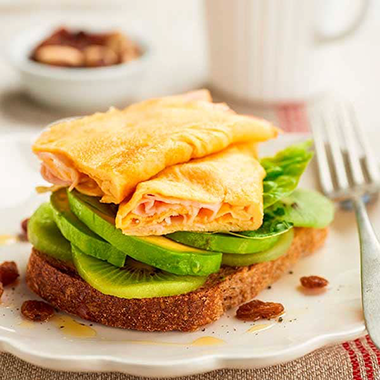 INGREDIENTS
4 eggs
8 slices roast turkey
280 g sliced avocado
a few drops of lemon juice
2 heads gem lettuce
3 Zespri Green kiwifruit
30 g raisins
4 teaspoons olive oil
4 slices whole-wheat bread
Salt
Pepper
METHOD
Toast the bread. Peel and slice the Zespri Green kiwifruit. Then peel and slice the avocados and sprinkle with lemon juice and salt. Wash the lettuce and cut into very thin slices.
Beat one egg with a pinch of salt and pepper. Heat 1 teaspoon of oil in a non-stick pan, pour in egg, place turkey on top and fold over the sides of the omelette. Repeat with the other eggs.
Cover each slice of bread with the kiwifruit and avocado slices, add some lettuce and top with the omelette. Serve with raisins on the side.