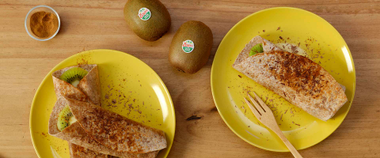 INGREDIENTS
4 whole wheat tortillas (165 g)
2 tablespoons of peanut butter (80 g)
2 Zespri™ Green kiwifruit
100 g of banana
10 g of butter
A pinch of cinnamon (2 g)
20 g dark chocolate (optional)
METHOD
Spread the peanut butter on the tortillas.
Peel and slice the kiwifruit and banana. Spread the fruit over the tortillas and sprinkle with the cinnamon. Carefully roll them up to make the burrito.
Heat a non-stick pan with butter. Brown the burritos for two minutes turning them over to brown them evenly.
Shave the chocolate with a knife or peeler and sprinkle on top.
Serve the burritos.