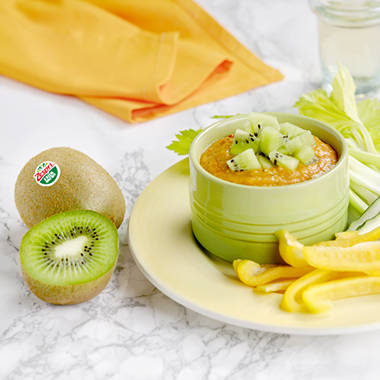 INGREDIENTS
1 red pepper (approx. 250 g)
360 g cooked white beans
2 Zespri Green kiwifruit
1 or 2 cloves of garlic
1 onion
3 tablespoons olive oil
1 tablespoon lemon juice
1 teaspoon ground cumin
Salt
30 g ground almonds
2 teaspoons harissa paste (or crushed chillies or paprika mixed with oil and salt if you don't have harissa paste to hand)
METHOD
Wash the pepper, remove the seeds and stem and cut into strips. Peel and chop the garlic and onion. Peel and chop the Zespri kiwifruit.
Heat oil in a pan and sauté the onion and pepper for 4-5 minutes.
Add the garlic and continue cooking for 10 minutes more.
Pour into the blender with half the kiwifruit and the beans and blend. Season with salt, pepper, cumin and the lemon juice. Add the almonds and harissa, and blend again into a very fine paste. Season again as needed.
Serve with the rest of the diced kiwifruit and whole-grain crackers, bread or crudités.