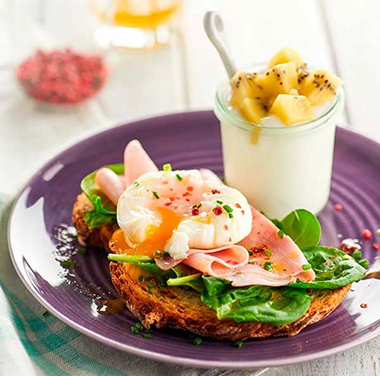 INGREDIENTS
4 Zespri SunGold kiwifruit
4 fresh eggs
50 g fresh baby spinach
4 slices cooked ham (approx. 80 g)
4 tablespoons olive oil
2 tablespoons lemon juice
4 slices whole-wheat seeded bread
8 chives
500 g plain yoghurt
Salt
Pink pepper
METHOD
Cover a small glass with cling film (15 x 15 cm), grease with oil and crack the egg inside. Close tightly into a little packet, rolling up the edges of the cling film carefully and holding them together with a small rubber band. Then place in boiling water and cook for 4 minutes. Repeat with the other eggs.
Mix the oil, lemon juice, chopped chives, salt and pepper. Put one slice of bread on each plate with spinach on top. Drizzle the dressing on top of the bread and spinach and cover with a slice of ham. To finish off, put the poached egg on top and season it.
Serve with the whipped yoghurt and peeled and diced Zespri kiwifruit.