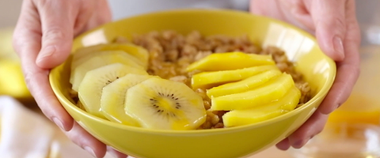 INGREDIENTS
400 g chopped oatmeal
200 ml apple juice
400 ml water
2 chopped dates (20 g)
3 Zespri™ SunGold™ kiwifruits
Passion fruit pulp (80 g)
1 mango (400 g)
1 tablespoons agave syrup (10 ml) (optional)
METHOD
Bring the apple juice with water to a boil. Add the dates, then the oats and cover. Cook over a low heat for 2 minutes. Remove and leave to stand for a few minutes.
Peel the kiwifruits and cut into slices. Peel the mango and cut into cubes.
Divide the cooked oatmeal among 4 bowls. Add the kiwifruit, mango, passion fruit pulp and agave syrup. Serve hot. To eat cold, leave in the refrigerator for 30 minutes.