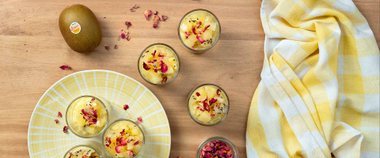 INGREDIENTS
2 Zespri™ SunGold™ kiwis
60 g basmati rice
600 ml oat milk
30 g brown sugar
3 green cardamom pods, seeds removed and reserved
A few strands of saffron
1/2 cinnamon stick
Dried flower petals (optional)
METHOD
Wash the rice until the water is clear and leave it to soak for 30 minutes.
Put the oat milk in a saucepan and bring almost to a boil.
Add the strained rice, cardamom seeds, saffron strands and cinnamon stick and heat gently for 25 minutes with lid off, stirring occasionally. Add the sugar and heat for 5 more minutes.
Peel and dice the kiwis and add half of them to the rice mixture. Stir and pour the mixture into 6 glasses.
Leave to cool completely and add the rest of the kiwis and the dried flowers. If desired, place in the fridge for 15 minutes to chill before serving.