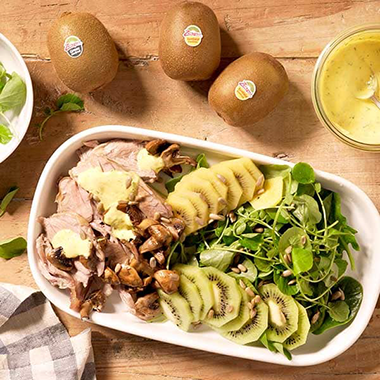 INGREDIENTS
400 g leg of lamb
100 g baby leaf spinach, washed and patted dry
50 g fresh watercress, washed and patted dry
200 g mushrooms
1 tablespoon sunflower seeds
1 garlic
2 tablespoons olive oil
 For the yoghurt sauce:
125 g plain yoghurt
1 tablespoon lemon juice
1 tablespoon chopped parsley
1 tablespoon chopped mint
½ teaspoon of turmeric
Salt
Pepper
METHOD
Preheat the oven to 200º C.
Put the leg of lamb on a baking tray and using the point of a sharp knife, create some deep slots in the skin. Insert thin strips of garlic into the slots. Season and drizzle with a little oil.
Bake for 35-40 minutes. Add the mushrooms to the juices in the pan, 15 minutes before the end. Set aside and keep warm
For the sauce: combine all the ingredients in a bowl and whisk them together with a fork.
Peel and slice the Zespri kiwifruit and arrange on a serving dish with the spinach leaves and watercress. Add sliced lamb, mushrooms and a little of the cooking juices.
Top with the yoghurt sauce and finish with sunflower seeds.