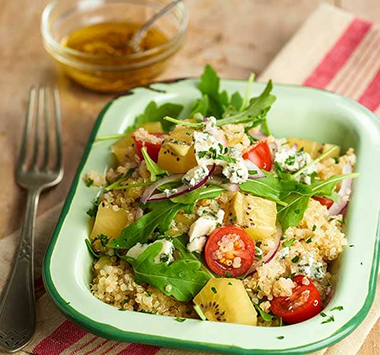 INGREDIENTS
3 Zespri SunGold kiwifruit
200 g quinoa
50 g rocket
1 teaspoon chopped parsley
60 g blue cheese (Roquefort, Stilton, Cabrales, Gorgonzola)
1/2 red onion
100 g cherry tomatoes
For the dressing:
1 teaspoon whole-grain mustard
4 tablespoons olive oil
2 tablespoons lemon juice
Salt
Pepper
METHOD
Rinse the quinoa and cook in a pot of boiling water for 15-18 minutes. Drain and set aside.
Peel and dice the Zespri kiwifruit. Wash and drain the rocket. Peel and finely slice the onion. Cut the tomatoes in half.
For the dressing: Mix the mustard, lemon juice, salt and pepper in a small bowl. Add the oil and stir.
Combine the quinoa, rocket, kiwifruit, onion, tomatoes and parsley in a large bowl then add the dressing. Combine well. Serve in a large dish or on plates with cheese sprinkled on top.