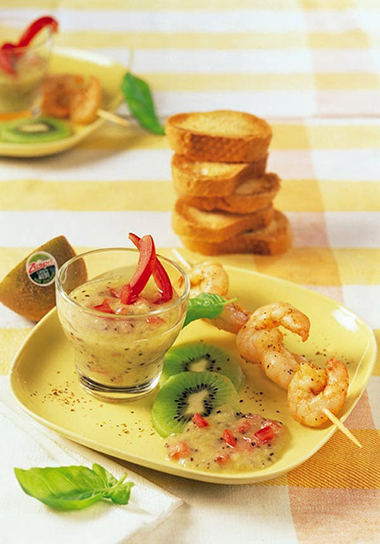 INGREDIENTS
2 ripe Zespri Green kiwifruit
1 Banana
1 Medium sized tomato
Salt
Pepper
Ginger, milled
1/4 Tsp Sambal olek
1 Tsp Lemon juice
1 Tsp Sugar
20 Scampi, pre-cooked
Fat for frying 
METHOD
Peel the Zespri Green kiwifruit and banana and puree both. 
Wash, clean, quarter and deseed the tomatoes and finely dice the flesh and add to the puree. 
Add salt, pepper, ginger, sambal olek, lemon juice and sugar to the dip to taste. 
Wash and pat the scampi's dry, and season with salt, pepper and ginger. 
Arrange on wooden skewers and fry gently for a short while on both sides in hot fat. 
Arrange the scampi with Zespri Tomato Banana Dip on the plates. 
Serve as desired with toasted baguette slices and garnished with Zespri Green kiwifruit slices and tomato wedges.