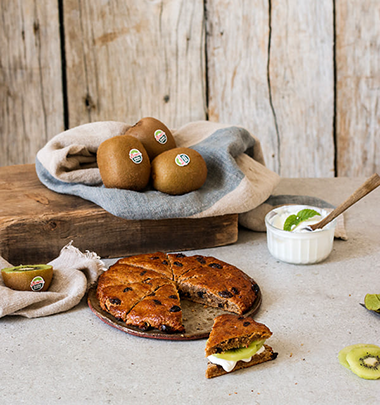 INGREDIENTS
50 g rolled oats
120 g whole-grain spelt flour
120 g Greek yoghurt
45 ml honey
3 tablespoons milk
1 teaspoon vanilla
¼ teaspoon cinnamon
½ teaspoon baking powder
60 g sultanas or dried blueberries
30 g butter
1 egg
For the filling:
METHOD
Preheat the oven to 220 °C, with both the top and bottom elements on. Line an oven tray with baking parchment.
Put the oats into a large bowl. Add the yoghurt, honey, sultanas or blueberries, vanilla and milk.
Separately, combine the flour, cinnamon and baking powder. Cut the cold butter into small cubes and rub this into the dry ingredients.
Now add the oat and yoghurt mixture and combine everything with your hands until you have a soft dough.
Place the dough onto the oven tray and shape into a round form with greased hands or a silicone spatula.
Beat the egg gently and brush onto the surface.
With a knife, mark the surface of the dough, dividing it into 8 wedges, but not cutting all the way through.
Put into the oven and bake for 25 minutes, until the top is golden. Remove from the oven and leave to cool at room temperature.
Just before serving, slice open and spoon in the Greek yoghurt and half a Zespri kiwifruit cut into thin slices.