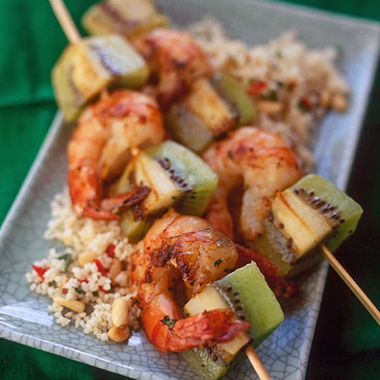 INGREDIENTS
6 Zespri Green kiwifruit, peeled and cut in chunks
500 g king prawns
1½ tablespoons sesame oil
Finely grated zest rind of lemon
1 tablespoon basil leaves, finely chopped
1 tablespoon coriander (cilantro) leaves, finely chopped
1 teaspoon soy sauce
Salt and freshly ground black pepper
Couscous to serve (optional) 
METHOD
Peel the prawns, leaving their tails on. 
In a medium-sized bowl, combine the sesame oil, lemon zest, herbs, soy sauce and seasonings. 
Add the prawns. 
Cover and refrigerate for 2 hours.
Pre-heat the grill or barbecue. 
Thread prawns and Zespri Green kiwifruit onto skewers. 
Brush the kiwifruit with a little extra oil.
Place the kebabs on the grill or barbecue and cook for 1-2 minutes each side, until the prawns are just cooked.
Serve hot on a bed of couscous.
Note: Toasted pine nuts, chopped parsley and diced chilies have been folded through the couscous in the picture.