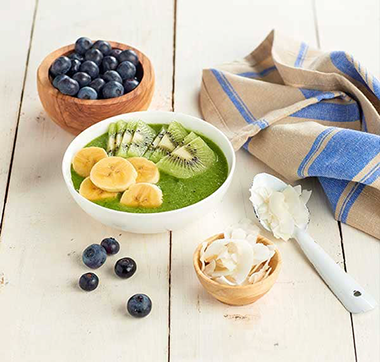 INGREDIENTS
2 bananas
3 Zespri Green kiwifruit
juice of 1 lime
80 g fresh spinach
3 cups of mineral water or coconut water
To garnish:
8 banana slices
8 Zespri Green kiwifruit slices
40 g coconut flakes
30 g blueberries
METHOD
Peel and slice the bananas and Zespri Green kiwifruit. Wash and rinse the spinach. Cut off the thicker stems.
Put the kiwifruit, banana, spinach, coconut water and juice of lime into the blender. Process until finely blended. Pour into glasses and garnish with the kiwifruit, banana, coconut flakes and blueberries. Serve immediately.