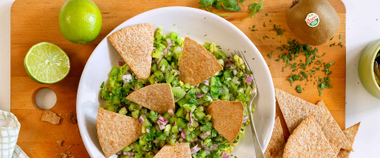 INGREDIENTS
4 whole wheat tortillas
10 ml olive oil
For the dip:
2 Zespri™ Green kiwifruits
1 avocado
1 red onion
20 g jalapeños
A few sprigs of coriander
30 ml lime juice
5 g of salt
METHOD
Cut each tortilla into 8 triangles and brush with olive oil on both sides. Place the triangles onto a baking sheet lined with parchment paper and put into an oven preheated to 175ºC. Bake for 12-15 minutes. Remove from the over and put on a wire rack to cool down, until they harden and get a crispy texture.
For the dip: Peel and finely chop the onion. Peel the kiwis and cut them into small cubes. Cut the jalapeños into slices.

Cut the avocado in half, remove the pit and remove the pulp. In a bowl, add the avocado pulp, mash with a fork, season, and drizzle with the lime juice. Add the onion, kiwi, jalapeños, and chopped cilantro. Mix well, add salt to taste and serve with the crispy tortillas.