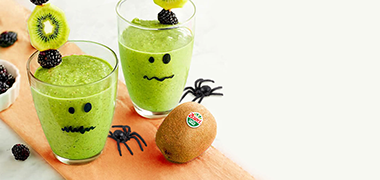 INGREDIENTS
2 peeled bananas
50 g fresh spinach leaves
400 ml plant-based milk drink
60 g oats
To decorate:
2 Zespri Green kiwifruit
1 tub of blackberries
1 permanent black marker
METHOD
Peel and dice the Zespri kiwifruit. Wash the spinach and peel the bananas.
Put the kiwifruit, banana, spinach and oats into the blender. Add the plant drink and blend until smooth. Pour into the decorated glasses.
Peel the kiwifruit to decorate and cut them into slices (not too thin). Put the slices on toothpicks, alternating with the blackberries. Put into the glass and decorate with Halloween designs.