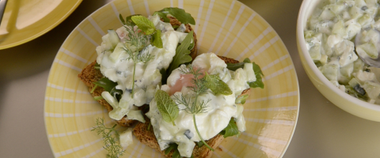 INGREDIENTS
4 whole-grain toasts with seeds (70 g)
For the filling:
4 eggs
20 ml olive oil
salt
50 g arugula
For the kiwi sauce:
2 kiwifruit Zespri™ Green
1 spring onion (100 g)
½ clove garlic (20 g)
80 g cucumber
125 g natural yogurt
Some mint leaves (5 g)
Some dill leaves (5 g)
Salt (approx. 3 g)
Pepper (approx. 3 g)
METHOD
For the eggs: Cover a small glass with a square (15 x 15cm.) of cling film, grease the centre with oil and crack an egg inside. Close hermetically as if it were a small package by rolling the ends of the film tightly and fasten with a rubber band. Do the same with the rest of the eggs and cook them in boiling water for 4-5 minutes. Set aside.
For the sauce: Peel and dice the kiwi. Dice the spring onion into small cubes of the same size and repeat the operation with the peeled cucumber. Peel and finely chop the garlic. Put everything in a bowl and add the yogurt, mint and dill. Season with salt and pepper and mix everything until a homogeneous sauce is obtained.
Divide the toasts among the plates, place an egg on each one, season, add some rocket leaves. Serve.