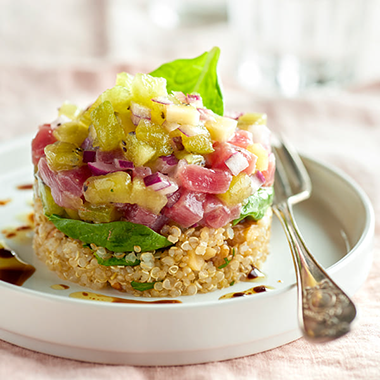 INGREDIENTS
240 g of fresh, high quality tuna steak
2 Zespri Green kiwifruit
½ red onion
1 lime
4 tablespoons of soy sauce
Fresh coriander, chopped
100 g  cooked quinoa
40 g baby spinach leaves, chopped
4 tablespoons of olive oil
8 shelled walnuts
METHOD
Mix the quinoa with half the oil, some coriander leaves, chopped nuts and spinach. Place in the fridge.
Peel the Zespri kiwifruit and cut into a small dice. Cut the tuna into the same size dice and season with soy, lime juice, chopped onion and half the kiwifruit. Allow to marinade in the fridge for 10 minutes so that the lime juice 'cooks' the tuna.
In a metal ring, make a base with the quinoa and place the tuna and seasoning on top. Top with more kiwifruit cubes and coriander leaves.