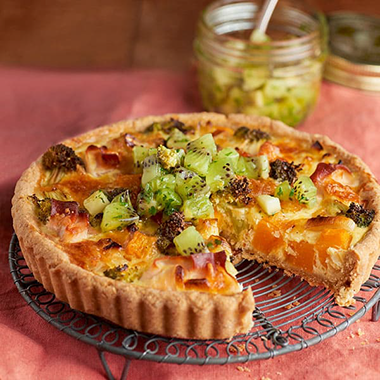 INGREDIENTS
For the dough:
75 g plain wholemeal flour
75 g plain flour
75 g butter
1 small egg
salt
For the filling:
2 eggs
140 ml evaporated milk
150 g turkey slices
60 g  grated Emmental cheese
1 leek (200 g)
150 g broccoli florets
150 g pumpkin or squash flesh
1 clove of garlic
3 Zespri Green kiwifruit
4 sprigs of parsley
4 tablespoons of olive oil
1/2 a lemon
Salt
Pepper
METHOD
In a bowl, mix the flour with the softened butter, egg and a pinch of salt to obtain a firm dough. Wrap it in cling film and place in the refrigerator for 30 minutes.
Beat the eggs with the milk, cheese, salt, pepper and chopped garlic.
Clean the vegetables and cut them into regular-sized pieces. Steam or boil the broccoli and pumpkin for 4 minutes. Sauté the leek in a frying pan with a little oil over a low heat for about 6-8 minutes until soft. Remove from heat and reserve.
Roll out the dough with a rolling pin on a floured surface and then use it to line a greased, loose bottomed flan tin. Pour the vegetable, turkey slices and egg mixture into the pastry and bake in the oven, preheated to 200° C, for 35 minutes.
Remove from the oven and let cool. Peel the Zespri kiwifruit, cut into small cubes and place in a bowl with salt, pepper, oil, a few drops of lemon juice and the chopped parsley. Serve wedges of quiche with the kiwifruit on top.