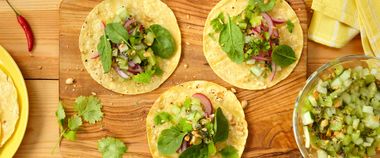 INGREDIENTS
6 corn or wheat tortillas (100 g)
2 Zespri™ Green kiwifruit
1 red onion (150 g)
2 limes (160 g)
1/2 cucumber (100 g)
30 g baby spinach
1 cm fresh ginger (20 g)
30 g peeled peanuts
A few sprigs of coriander
A pinch of habanero chili or a few drops of hot sauce (3 g)
Salt (2 g)
Pepper (1 g)
METHOD
Peel and finely julienne the onion, put it in a bowl and squeeze the juice of one lime over it. Salt and season with a pinch of habanero chili. Stir with a spoon and set aside in the fridge covered with cling film.
Remove the ends of the cucumber, peel and dice it and put it in a separate bowl. Peel the kiwis, dice them and add them to the same bowl. Peel and chop the ginger, chop the peanuts and add them to the cucumber and kiwis mix. Season with salt and pepper, sprinkle with the remaining lime juice and mix well.
Lightly toast the tortillas and fill them with the cucumber and kiwi mixture, the marinated onion and some spinach leaves. Garnish with some fresh coriander leaves.