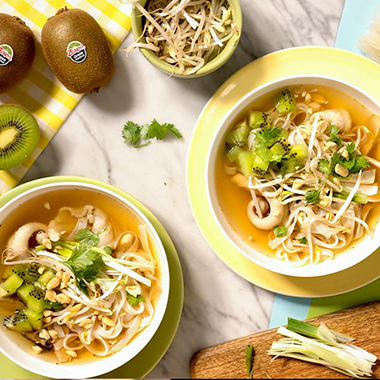 INGREDIENTS
600 g sole fillets (or other white fish)
150 g shiitake or king oyster mushrooms
7-8 cups chicken stock
2 tablespoons soy sauce
2 tablespoons fish sauce (Nam Pla)
1 teaspoon ground chilli
250 g rice noodles (cooked according to the packet instructions and drained)
1 cup beansprouts
2 spring onions
A few sprigs of fresh coriander
2 tablespoons peanuts
2 limes
METHOD
Put the stock, soy sauce, fish sauce and 2 tablespoons of lime juice into a wide, shallow saucepan.
Bring the broth to the boil, add the mushrooms and cook over a low heat for 5 minutes.
Now add the fish fillets and simmer very gently for another 2 minutes until the fish is cooked but holding its shape.
Divide the cooked, drained noodles between 4 bowls and carefully place the fish fillets on top
Pour the broth over the top, finishing with a garnish of beansprouts, thinly sliced onion, peeled and diced Zespri kiwifruit, coriander and peanuts.
Serve with extra lime juice and ground chilli to taste.