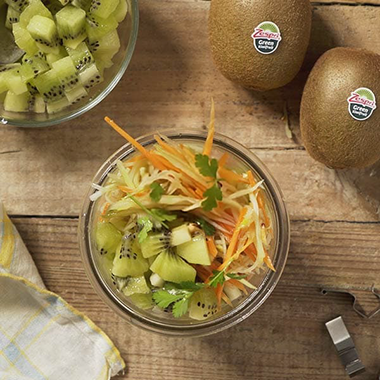 INGREDIENTS
For the salsa:
Juice of 2 limes
3 tablespoons soy sauce
2 teaspoons coconut sugar
125 ml water
For the Vietnamese salad:
2 carrots, trimmed and peeled
½ fresh bulb of fennel
250 g raw prawns, peeled
250 g dried rice noodles 
1 clove of garlic
1 tablespoon extra-virgin olive oil
fresh parsley or coriander
20 g toasted almonds
20 g toasted hazelnuts
salt
METHOD
Fill a pot with plenty of water and cook the rice noodles following the instructions on the packet.
Combine the soy sauce, lime juice, sugar and water for the sauce. Put in a pot and bring to the boil. When the sugar has dissolved, turn off the heat and leave to cool.
Grate the carrots and fennel and combine in a bowl. Add the toasted hazelnuts and almonds, a drizzle of oil and salt to taste.
In a pan, add the oil and chopped garlic. Put in the cleaned prawns and sauté for 3 minutes on medium-high heat, until they turn pink. Remove from the heat. Put the noodles into the pan and stir well.
Put the sautéed noodles and shrimp into a bowl or divide between separate lunchboxes to take away.
Peel and dice the Zespri kiwifruit and arrange with the carrot and fennel mixture next to the noodles.
Decorate with some chopped coriander and serve. Dress with the lime sauce before serving.