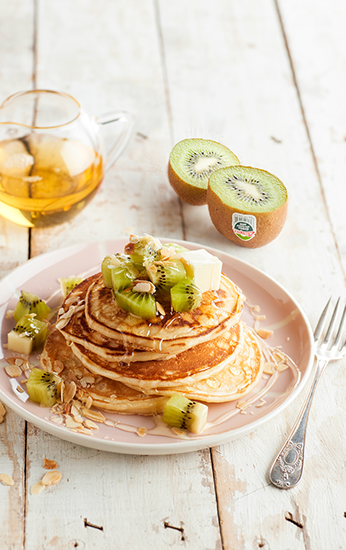 INGREDIENTS
270 g plain flour
3 teaspoons of baking powder
50 g sugar
1 egg
310 ml milk
125 g yogurt
75 g butter + 1 teaspoon
To accompany:
4 tablespoons maple syrup or honey
4 cubes of butter (15 g)
4 Zespri Green kiwifruit
2 tablespoons toasted almond flakes
METHOD
Mix the flour and baking powder in a bowl and make a well in the middle.
In another bowl, beat the egg with the milk, sugar, yogurt and melted butter (75 g). Pour this into the dry ingredients and stir with a whisk.
Grease a large non-stick frying pan, heat it and pour in 2 or 3 pancakes of around 6 to 7 cm. Let them cook for a minute, flip them over and cook for a minute more.
Remove and serve on individual plates. Repeat for the rest of the mixture. Serve hot with a dash of butter and syrup, the Zespri kiwifruit cut into cubes or slices and the almond flakes.