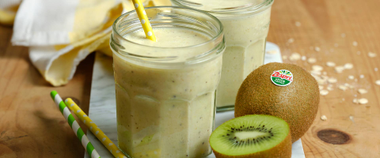 INGREDIENTS
4 Zespri™ Green kiwis
2 medium-sized oranges
500 ml rice milk
60 g fine oat flakes
A few drops of vanilla essence (3 ml)
METHOD
Peel and dice the kiwis. Peel the oranges, cut into quarters, remove the pith and dice.
Put the kiwi, orange, oat, milk and vanilla into the blender jar. Blend to obtain a fine, even mixture.
Pour into glasses and serve.
To make a warm version for cold winter days, heat the milk first.
For a colder version, freeze the oranges and kiwis beforehand.