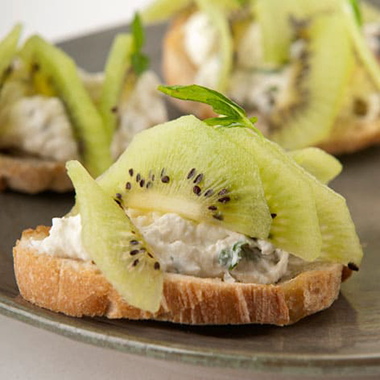 INGREDIENTS
2 Zespri Green kiwifruit, thinly sliced
12 slices of baguette
1 clove of garlic
2 tbsps olive oil
50g feta cheese
100g cream cheese (type Philadelphia)
Black pepper
1 tbsp fresh mint, finely chopped
METHOD
Grill the slices of baguette in the oven on 150°C until crunchy and golden brown.
Carefully brush the clove of garlic over the toasts for a slight garlic flavour. Sprinkle the toasts with a little olive oil.
Mix the cream cheese with feta. Season the cheese with black pepper and mint.
Add a dash of lemon juice if desired. Coat the toasted bread slices with cheese and cover nicely with Zespri Green kiwifruit slices.
Garnish with some small leaves of mint.