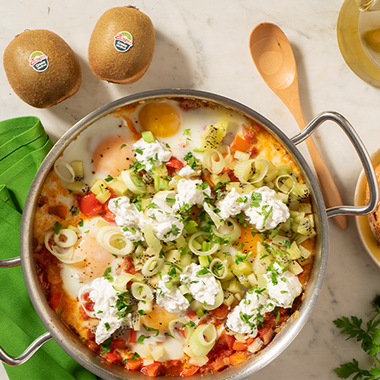 INGREDIENTS
6-8 eggs
2 tablespoon cottage cheese
2 Zespri Green kiwifruit
2 tablespoons coriander leaves
1 tablespoon chopped green onion
For the sauce:
1 tin diced tomatoes (800 g)
1 onion
2 red peppers
3 cloves of garlic
1 teaspoon of smoked paprika
1 teaspoon ground cumin
2 tablespoons olive oil Salt Pepper
METHOD
Clean the vegetables, chopthe onion and garlic and dice the pepper.
In a frying pan (which can go in the oven), heat the oil and sauté the chopped onion for 5 minutes. Add the chopped garlic and pepper and cook for 6-7 minutes more. Add the paprika, cumin and salt and pepper to taste.
Add the chopped tomatoes and cook for 12-15 minutes.
Break the eggs into the pan and season with salt and pepper.
Bake in a preheated oven at 180°C for 7-10 minutes.
Peel the Zespri kiwifruit and cut into small cubes.
Spread over the bake when it comes out of the oven. Then top with coriander, cottage cheese and green onions.
Serve immediately.
Tip:
Serve with crusty bread.