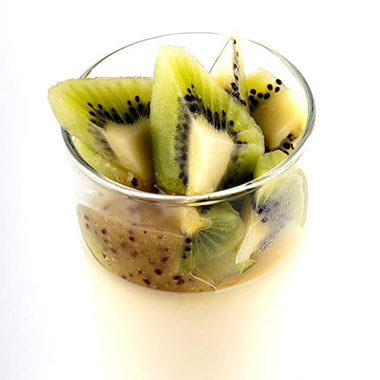 INGREDIENTS
4 Zespri Green kiwifruit, peeled and cut into pieces
1 kiwi pureed
2 leaves of gelatine, soaked in cold water
300ml double cream
100ml whole milk
2 tbsps sugar
100g finely chopped white chocolate
METHOD
Bring the cream, milk and sugar to the boil.
Take the pan off the heat and mix in the gelatine and chocolate until the chocolate has melted completely.
Let the mixture cool for several minutes before dividing between four glass dishes. Store the glass dishes in the fridge for +/- 3 hours.
Mix the pieces of kiwifruit with the kiwifruit puree.
Divide the kiwifruit mixture over the glasses and serve.