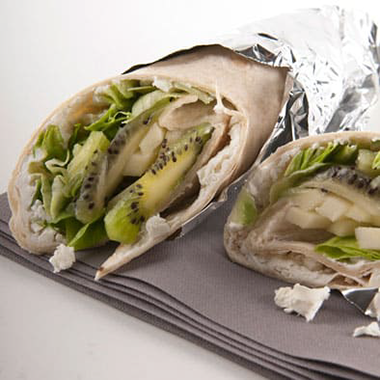 INGREDIENTS
4 Zespri Green kiwifruit, peeled and sliced into thin strips.
4 tortilla wraps
4 tbsps cream cheese
150g feta cheese
1 Granny Smith apple, sliced into thin strips
1/4 iceberg lettuce, shredded
A little olive oil
Bit of fresh orange juice
Black pepper
METHOD
Spread the cream cheese over the tortillas.
Crumble the feta over the cream cheese.
Season with pepper.
Lengthwise, divide the Zespri Green kiwifruit, lettuce and apples in the centre of the tortillas.
Sprinkle with some olive oil and orange juice.
Tightly roll up the tortillas.
Halve them and wrap in aluminium foil.