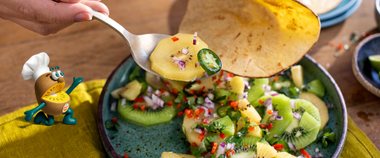 INGREDIENTS
2 Zespri™ Green Kiwis
2 Zespri™ SunGold™ Kiwis
1 Small red onion, finely chopped
1 Jalapeño, finely chopped
1 Red chilli, finely chopped
4 tbsp Coriander, roughly chopped
Juice and zest 1 lime
1 tbsp Olive oil
400 g Refried beans
180 g Red or white cabbage, finely shredded
200 g Feta or dairy free cheese alternative
8 Small soft corn tortillas
Hot sauce to serve
METHOD
To make the salsa. Roughly chop one green and one golden kiwi fruit and place in a bowl. Finely slice the remaining kiwifruit and add to the bowl along with the red onion, red chilli, coriander, lime juice and lime zest. Gently mix together and season to taste.
Heat the refried beans according to the pack instructions. Heat a frying or griddle pan and lightly toast the corn tortilla for 30 secs to 1 min on each side until starting to colour.
To serve, spoon some of the refried beans in each taco, top with some shredded cabbage, a few slices of feta dairy-free cheese. Spoon over a generous amount of the kiwi salsa and serve immediately.