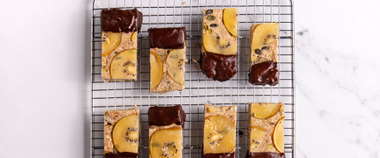 INGREDIENTS
1 Zespri™ SunGold™ kiwi, peeled
3 tbsp maple syrup
50g melted coconut oil
300g oats
1 tbsp ground ginger
30g pistachios
30g chopped roasted hazelnuts
30g pumpkin seeds
2 Zespri™ SunGold™ kiwis, sliced
100g dark chocolate
METHOD
In a food processor, place the peeled Zespri™ SunGold™ kiwi and blend until smooth.
Add the maple syrup, melted coconut oil, oats, ground ginger to the food processor and blitz until well combined.
Transfer the contents to a mixing bowl.
Roughly chop the pistachios and add to the bowl along with the chopped hazelnuts and pumpkin seeds. Stir everything together until well distributed.
Line a square baking tin with parchment paper and transfer the mix into the tin. Spread out evenly with the back of a metal spoon. Using the same spoon, make small indentations in the mix to place a slice of kiwi in each one.
Add the slices of Zespri™ SunGold™ kiwi to the top then place the tin in the fridge.
Allow to set for 2 hours.
Remove the tin from the fridge and slice into 10-12 bars (depending on how big/small you would like them).
Melt the dark chocolate in the microwave or in a small bowl over a pan of simmering water.
Dunk the end of each bar in the melted chocolate and place on a piece of baking paper to cool.
Keep in an airtight container in the refrigerator for up to 1 week.