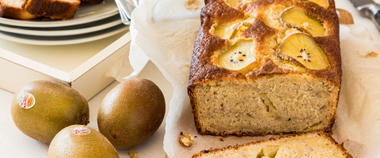 INGREDIENTS
2 Zespri™ SunGold™ kiwis
2 medium very ripe bananas
110g butter, softened
170g caster sugar
2 large eggs
225g self-raising flour
Chocolate, roughly chopped (optional)
1 tablespoon demerara sugar
METHOD
Pre-heat the oven to 180°C/gas mark 4.
Grease and line a loaf tin.
Peel one of the SunGold™ kiwis and mash in a bowl along with the two bananas and set aside.
In a separate bowl, cream together the butter and sugar until light and fluffy.
One by one, carefully mix in each egg, stirring well to make sure it is well incorporated.
Mix in the flour and mashed mixture and stir through. If using chocolate, here is where you would add your chunks of chocolate.
Spoon the mixture into the loaf tin and sprinkle over the demerara sugar.
Slice the remaining SunGold™ kiwi and arrange across the top of the cake.
Bake in the oven for 35-40 minutes until cooked through and golden.