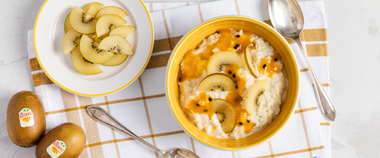 INGREDIENTS
100g white rice
One orange, zested
400ml coconut milk
150ml milk
50ml caster sugar
1tsp vanilla extract
150ml double cream
6 Zespri™ SunGold™ kiwis, sliced, leaving skin on
2 Passionfruit pulp
METHOD
Place the rice, zest, coconut milk, milk, sugar and vanilla in a pan over medium heat and slowly bring to the boil without the lid on.
Once the mixture is boiling, immediately reduce the heat to low.
Place a lid on the pan and cook, stirring occasionally for up to 1 hour. Start checking after 40 minutes as different brands of rice may have different cooking times.
When the rice is cooked, remove the pan from the heat and stir in the cream.
To serve, spoon into bowls and simply top with the kiwi and passionfruit.