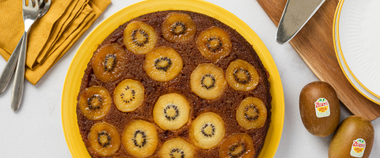 INGREDIENTS
Equipment:
25cm cake tin
For the topping:

4 Zespri™ SunGold™ kiwis, peeled and sliced
70g dark brown sugar
70g butter
For the cake:
120g dark brown sugar

120g softened butter
2 eggs
1tsp vanilla extract
100g self-raising flour
1tsp baking powder
2tbsp Greek yoghurt
METHOD
Heat the oven to 180c / 160c fan / gas 4.
For the topping put the dark brown sugar and butter in a small saucepan and melt over a medium heat until the sugar has dissolved. This should take a couple of minutes.
Once melted, spoon the sugar and butter mixture into the cake tin ensuring there's an equal layer on the bottom of the tin.
Take the sliced kiwi and arrange around the tin, sitting on top of the sugar and butter layer.
Next, create the cake mixture by creaming the dark brown sugar and butter in a large bowl until light and fluffy.
Gradually add the eggs and vanilla extract and continue mixing.
Sift the flour and baking power into the bowl, add the yoghurt and mix until smooth.
Carefully spoon the mixture over the kiwi slices and spread level.
Bake for 30 minutes or until golden brown.
Leave the cake to cool in the tin for 5 minutes and then carefully turn out onto a serving plate.