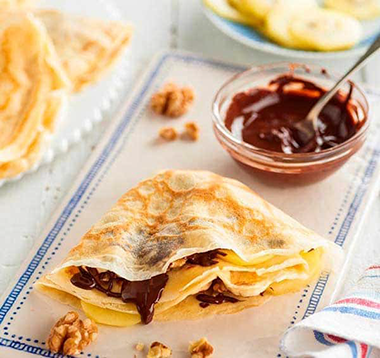 INGREDIENTS
For the batter:
125 g flour
2 eggs
225 mL milk
20 g butter + 1 teaspoon
a few drops of vanilla extract
1/2 teaspoon of salt
For the filling:
80 g of dark chocolate (more than 60% cocoa)
2 Zespri SunGold kiwifruit
1 banana
20 g walnuts
METHOD
To prepare the crêpe batter: Mix the flour, salt and a few drops of vanilla extract in a bowl. Beat the eggs and add them with half of the milk to the bowl. Stir with a whisk. Add the rest of the milk slowly and when thoroughly mixed add the melted butter (20 g). Let batter rest for 1 hour.
Peel and thinly slice the banana and Zespri kiwifruit. Melt the chopped chocolate over a water bath. Pour 1 large spoonful of crêpe batter into a non-stick pan greased evenly with butter. Cook over a low heat for 1 to 2 minutes on each side and remove from the pan.
Sprinkle some banana and kiwifruit slices on top of the crêpe and top with some chopped walnuts. Fold in half and serve quickly before it cools. Repeat until you have used up all of your ingredients.