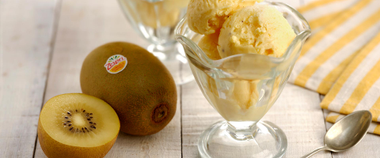 INGREDIENTS
4 eggs
65 ml agave syrup
250 ml coconut milk
250 g Zespri™ SunGold™ kiwifruit, pulped
10 ml lime juice
METHOD
Separate the egg yolks from the egg whites and beat the latter until stiff.
Whip the coconut milk and add the agave syrup.
Beat the egg yolks and add them to the whipped egg whites. Mix with the coconut milk by gently folding them in, in a figure of 8 motion. Add the pulp to the mixture and finally the lime juice.
Pour the mixture into a tray lined with baking paper and place in the freezer for at least 2 hours.