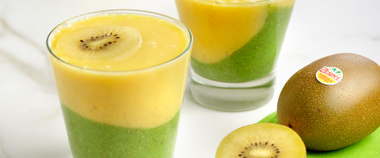 INGREDIENTS
125 g plain yogurt
3 Zespri™ SunGold™ kiwifruits
200 g mango pulp
30 g fresh spinach
10 ml agave syrup
250 ml mineral water
10 g chia seeds
150 g ice cubes
METHOD
Peel and cut 2 of the kiwifruits. Put them in the blender with the spinach, syrup, water, half of the yogurt and chia. Blend until a homogeneous mixture is obtained.
Mix the mango pulp with the remaining yogurt.
Pour half of the mango mixture into large glasses, followed by the kiwifruit mixture. Garnish with slices of the remaining kiwifruit.