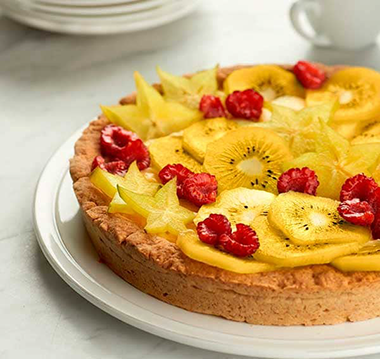 INGREDIENTS
For the dough:
125 g plain wheat flour
125 g whole grain wheat flour
140 g butter
75 g sugar
25 g of ground almonds
1 pinch of salt 1 egg
For the filling:
For the crème pâtissière:
250 ml milk
1 cinnamon stick
1 piece of lemon rind
3 egg yolks
50 g sugar or stevia
25 g cornflour
METHOD
Pour the milk into a pan with the cinnamon and lemon rind and bring to boil. Whisk the egg yolks and sugar together in a bowl and add the cornflour. Remove the milk from the heat, take out the cinnamon and lemon rind, then slowly pour it over the egg yolks, whilst stirring with the whisk. Return the mixture to the pan and cook over a gentle heat, stirring continuously until it thickens. Remove from the heat and leave it to cool, stirring occasionally.
To make the dough, put the flour in a bowl, add the softened butter, the almonds, sugar, egg and a pinch of salt. Using your hands mix to a firm dough.
Dust the work surface with a little flour and roll out the dough with a rolling pin. Spread some butter in a tart case with a 20 or 22-centimetre diameter then line it with the dough, trimming the edges. Put it in the fridge for 20 minutes.
Bake the tart in a preheated oven set at 180 ºC. Bake for 20-25 minutes or until the pastry is light golden brown. Leave to cool, remove it from the mould and serve in a tart case. Fill with the crème pâtissière. Add the previously washed and cut fruit, making a decorative pattern.