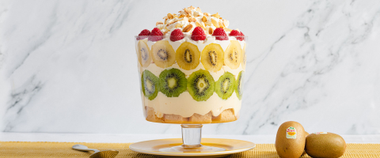 INGREDIENTS
2 x 275g Madeira cakes
200ml elderflower liqueur or elderflower cordial diluted 1:3
1kg carton ready made custard
2 x 200g cartons mascarpone
4 Zespri™ SunGold™ kiwifruit, peeled and sliced
4 Zespri™ Green kiwifruit, peeled and sliced
600ml whipping cream
30g icing sugar, sieved
50g flaked, toasted almonds
12 fresh raspberries
METHOD
Cut the cakes into cubes and place a layer in the bottom of the trifle dish.  Drizzle with elderflower liqueur or cordial.
Mix the custard and marscapone together in a large bowl until completely smooth.
Top the cake layer with a layer of custard mixture.
Place a layer of cake cubes on top of the custard mixture, leaving the sides of the dish free.  Carefully place slices of kiwi around the edges of the dish, propping them up against the cake.  Drizzle the cake with more liqueur or cordial.
Continue to layer the custard mixture, cake and kiwis until the bowl is full. 
Whip the cream to soft peaks and add the icing sugar for the final moments of whipping.
Pile the cream on top of the trifle and top with flaked almonds and fresh raspberries.
TIP:
It was used a 20cm trifle bowl to make a trifle to feed a crowd. You could easily halve the ingredients and use a smaller bowl.