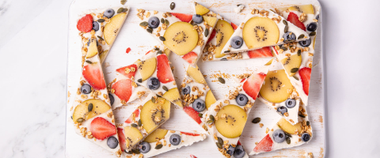 INGREDIENTS
700g coconut yoghurt or your favourite yoghurt
2 tbsp maple syrup
1 tsp vanilla extract
2-3 Zespri™ SunGold™ Kiwis, sliced
A handful of berries (optional)
Granola, we love using 'Troo'
METHOD
Line a 36x27x2.5cm rectangular shallow baking tray with parchment paper, leaving extra paper hanging over the edges.
In a mixing bowl, blend the yoghurt, maple syrup and vanilla extract and stir until well combined.
Spread the yoghurt mixture into the baking tray, smoothing out the top.
Scatter over the sliced Zespri™ SunGold™ kiwis. Add berries. (If using strawberries, slice them).
Sprinkle over the granola then place the tray in the freezer for 3-6 hours or overnight, until solid.
Remove from the freezer and cut bark into pieces.
Enjoy, or store in an airtight container in the freezer for up to one month.