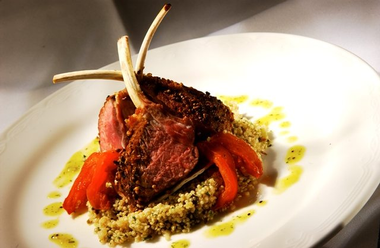 INGREDIENTS
4 lamb loin chops

Kiwifruit Mint Mojo
3 Zespri™ Green Kiwifruit
1/4 cup fresh lime juice
1/4 cup avocado oil
1/2 cup chopped fresh mint
2 tbsp sugar

Adobo Rub
1 tbsp fennel seeds
1 tbsp mustard seeds
1 tbsp toasted cumin seeds
1 dried chili
1 tsp crushed red pepper flakes
1 tbsp salt

Quinoa Salad
4 cups (1 litre) of water
10.5 oz (300g) quinoa*
1 bunch parsley, chopped
1/2 bunch fresh oregano leaves
3 cloves crushed garlic
1/4 cup (60ml) avocado oil (or extra virgin olive oil)
1/4 cup (60ml) sherry vinegar (or cooking sherry)


METHOD
Adobo Rub

Toast all ingredients in a frying pan over high heat until fragrant, about 5 minutes. Remove from pan and cool.
When cool, crush or grind until smooth. Lamb

Trim the lamb chops and coat with the adobo rub. Refrigerate for 1 hour.
While chilling prepare the quinoa salad and Zespri kiwifruit mint mojo.
Sear the lamb for about 6 minutes on each side, and serve on the quinoa salad with Zespri kiwifruit mint mojo.

Quinoa Salad

Bring the water to a boil, add the quinoa and cook on high for 6 minutes. Strain off the water and rinse with cold water.
Place quinoa in a mixing bowl and allow to cool for 10 minutes.
Mix in the parsley, oregano, garlic, oil and vinegar. Season with salt and pepper; then, chill until serving.

- Recipe courtesy of Chef Stephen Barry