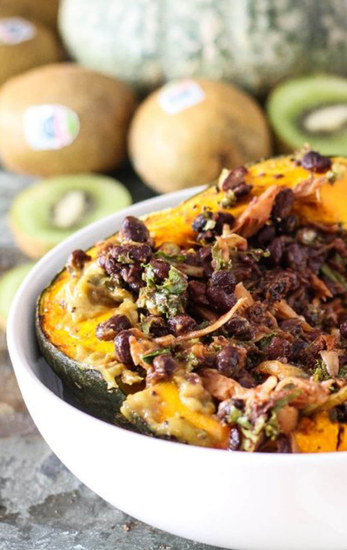 INGREDIENTS

For the Kiwi Lime Sauce:

2 quartered Zespri™ green kiwifruit
1 peeled and pitted avocado
1 lime, zest and juice
1 teaspoon paprika
½ teaspoon ground cinnamon
¼ teaspoon cayenne pepper (optional)


For Squash Bowls:

1 kabocha squash, halved and seeds removed (or substitute with winter squash of choice)
1 can (15 ounce) black beans, drained (but not rinsed)
1 package (10.6 ounce) shredded Bar-B-Que Jackfruit (I used jackfruit that was already barbecue flavored but you could also toss plain shredded jackfruit with 3-4 tablespoons of your favorite barbecue sauce)
½ cup chopped green onion (white and green parts)
½ cup minced kale
salt and pepper


Spiced Kiwi Slices:
1 thinly sliced Zespri™ green kiwifruit
½ teaspoon paprika
⅛ teaspoon cayenne pepper (optional)

METHOD
Preheat oven to 350ºF and prepare a glass baking dish. Place squash halves in baking dish cut side up and set aside.
Combine beans, jackfruit, green onion, kale, and salt and pepper in a large mixing bowl and then spoon inside center of squash halves.
Use spoon to press the mixture down until compact and then place baking dish in oven and roast until squash is tender, 60-80 minutes.
In the meantime, prepare the sauce. Combine kiwi lime sauce ingredients in a blender and pulse until smooth and creamy. Transfer to a small bowl with lid and refrigerate until ready to serve.
Prepare the spiced kiwi slices: lay Zespri kiwifruit on a flat surface and sprinkle both sides with spices. Set aside.
Once the squash is cooked, remove from oven and transfer to plates or bowls. Top with kiwi lime sauce and spiced kiwi slices before serving. Enjoy!
Recipe contributed by Stephanie McKercher of The Grateful Grazer