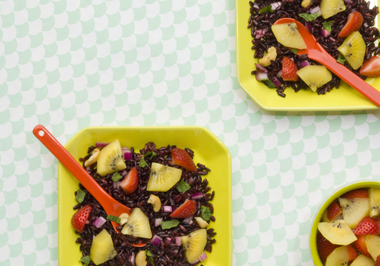 INGREDIENTS

2 Zespri™ SunGold™ Kiwifruit, peeled and cut up
2 tablespoons lemon juice
2 tablespoons olive oil
2 teaspoons honey
1 teaspoon Dijon mustard
1/2 teaspoon salt
1/4 teaspoon pepper
1 clove garlic, finely chopped
2 1/2 cups cooked and cooled black or brown rice
1 cup quartered strawberries
1/4 cup chopped red onion
2 teaspoons chopped fresh mint
1/3 cup salted cashew pieces

METHOD
In small bowl, whisk together lemon juice, olive oil, honey, mustard, salt, pepper and garlic.
In large bowl, stir dressing into rice.
Stir in remaining ingredients except cashews.
Cover and refrigerate up to 2 hours before serving to allow flavors to blend.
Stir in cashews just before serving.

*1 cup uncooked black rice yields 2 1/2 cups cooked rice.