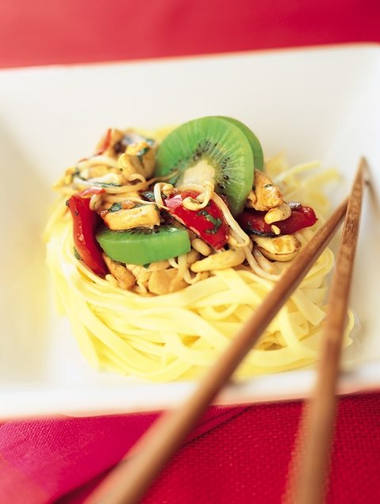 INGREDIENTS

4 Zespri™ Green Kiwifruit
vegetable oil, for the pan
1 lb (500g) chicken breast, boneless, skinned and sliced
1 clove garlic, crushed
2 fresh red chillies, seeded and sliced
1 large red bell pepper, chopped
1/4 cup oyster sauce
1/4 cup cashew nuts, roughly chopped
1-1/2 cups bean sprouts
1/4 cup fresh basil leaves, sliced
hot cooked egg noodles, or rice (optional)

METHOD
Heat an oiled wok or large frying pan to medium-high heat.
Stir-fry the chicken in batches until browned and tender. Set chicken aside, and keep warm.
Stir-fry the garlic, chillies and red bell pepper until tender.
Return the chicken to the wok and add the oyster sauce, cashews, bean sprouts and basil.
Slice Zespri kiwifruit into halves and spoon out bite-sized chunks into the wok with the remaining ingredients. Stir-fry until just hot.
Serve on a bed of egg noodles or rice.