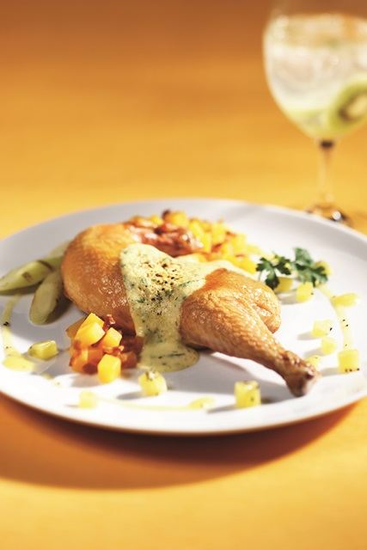 INGREDIENTS
4 Zespri™ SunGold Kiwifruit
finely grated zest from 1 lemon
juice from 2 medium lemons
1/2 cup fresh cilantro leaves
3-1/2 oz (100ml) light vegetable oil
salt, to taste
1.10 lbs (500g) orange-fleshed sweet potatoes, peeled and cut in 1-inch (3cm) thick chunks
2 tbsp white/brown miso (soybean paste, available in Asian food section of the grocery store)
1 large fresh red chili pepper, finely sliced on an angle
7 oz (200ml) cooking oil
4 whole chicken breasts
5 oz (150g) washed watercress

METHOD
Preheat the oven to 425°F (220°C)
Slice Zespri™ kiwifruit into halves and spoon fruit out into a blender or food processor. Add the lemon zest and juice, cilantro and salad oil and 1 tsp salt, and purée on medium speed until smooth. Pour through a fine sieve to remove the seeds, if desired, and set aside.
Boil the sweet potato chunks with a dash of salt until tender. Add the miso and mash them together. Set aside and keep warm.
While the sweet potato is cooking, heat the cooking oil in a small saucepan, and deep-fry the sliced chili until darkened and crisp. Remove from the oil, and drain on paper towel.
Heat a large ovenproof skillet on high heat, and add 2 tbsp of the chili oil. When hot, cook the chicken breasts, skin-side down, until the skin crisps and becomes golden. Turn the breasts over, and roast in the oven until cooked -- about 15 minutes. The chicken is cooked when clear juices run after inserting a fine knife into the thickest part of the breast.
To serve, place a spoonful of the potato mash in the center of a plate; top with a bunch of watercress, then the chicken sliced in 2-3 pieces. Spoon the Zespri™ SunGold Kiwifruit sauce over the top.