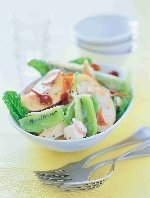 INGREDIENTS

4 Zespri™ Green Kiwifruit
9 oz (250g) boneless, skinless chicken breasts
2 large peaches, pitted and sliced
5 oz (150g) feta cheese, chopped
1 small red onion, finely sliced
6 slices prosciutto ham
1 medium head of lettuce, washed and separated into leaves

For Dressing:
7 oz (200g) low-fat plain yogurt
1/4 cup lemon juice
1 tbsp whole seed mustard
1 tsp Dijon mustard
1 clove garlic, crushed
salt and freshly ground black pepper, to taste

METHOD
Cook the chicken on a heated and oiled sauté pan, grill or barbecue until browned on both sides and cooked through. Cool and thinly slice.
Sauté prosciutto until crisp. Cool and break into pieces.
Stir all salad dressing ingredients into a medium sized bowl and whisk to combine.
Slice Zespri kiwifruit into halves and spoon out the fruit into bite-sized pieces.
In a large bowl, place the sliced chicken, peaches, Zespri™ Kiwifruit, feta and red onion and toss gently.
Place the lettuce leaves onto serving plates. Top with the chicken salad and drizzle with the dressing. Place the crumbled prosciutto on top and serve with a loaf of warmed crusty bread.