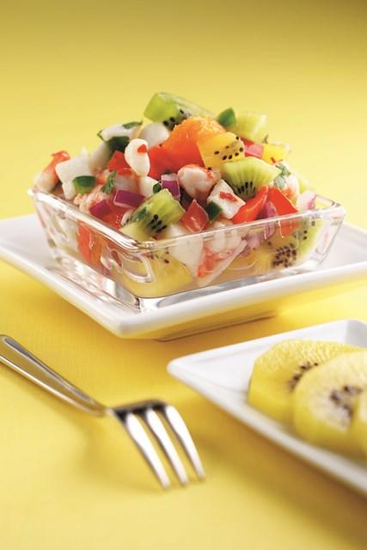 INGREDIENTS

2 Zespri™ Green Kiwifruit, scooped & diced
2 Zespri™ SunGold Kiwifruit, scooped & diced
1/2 lb / 250 g shrimp or prawn meat, cooked, cubed
1/2 lb / 250 g scallops, cubed
1/2  lb / 250 g white fish, cubed
1/2  cup / 250 g red onion, diced
1/2 lb / 250 g salmon, cubed
1 tbsp / 15 ml green Jalapeno pepper, diced, seeded
1 tbsp / 15 ml red jalapeno pepper, diced, seeded
1/2 teasp / 2.5 ml red pepper flakes
2 cups / 475 ml fresh lime juice
2 medium tomatoes, seeded and diced
1/2  cup / 120 ml cilantro, chopped
2 tbsp / 30 ml sugar
salt and fresh ground pepper to taste
2 limes, segmented
1 orange, segmented
lettuce leaves

METHOD
"An updated version of a classic appetizer from South America. Try serving it cold on lettuce leaves instead of using traditional tortillas.
Combine the shrimp, salmon, scallops, white fish, red onion, Jalapeno peppers, red pepper flakes and lime juice. Marinate refrigerated for 2-1/2 to 3 hours.
Just before serving, drain off excess lime juice and add tomatoes, cilantro, sugar, salt and pepper. Carefully add in the Zespri kiwifruit, lime and orange segments and gently mix. Serve on bed of lettuce leaves.